The Race Day Las Vegas Radio Network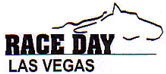 Host Ralph Siraco brings you daily Race and Sports programming from "the gaming capital of the world", Las Vegas, Nevada. All programs are broadcast live on AM 1400 KSHP in Las Vegas and streamed live on the internet.
Follow @RaceDayLVRalph
Click here to listen to the alternate live stream through Tunein.com

Click here if you're having trouble connecting to the Live Stream.


Listen on iPhone:
KSHP
On Android:
KSHP
Race Day Las Vegas is broadcast Wednesday through Friday(and Holiday Mondays) at 7:05 AM, and Weekends at 8:05 AM Pacific time. Ralph takes you around the world of thoroughbred racing, from the Racetracks to the Race Books of Las Vegas.


Upcoming Graded Stakes



Dec. 11 Los Alamitos Futurity G2 @ LRC
Dec. 11 Mr. Prospector S G2 @ GP


Dec. 18 Fort Lauderdale S G2T @ GP

Dec. 26 American Oaks G1T @ SA
Dec. 26 La Brea S G1 @ SA
Dec. 26 Mathis Bros Mile G2T @ SA
Dec. 26 Malibu Stakes G1 @ SA
Dec. 26 San Antonio S G2 @ SA
Dec. 26 San Gabriel S G2T @ SA


Jan. 1 Joe Hernandez S G2T @ SA


Jan. 8 Santa Ynez Stakes G2 @ SA

All Race Day Las Vegas programming on the Race Day Las Vegas Radio Network emanate and originate from the studios of Sportstalk 1400 AM KSHP in Las Vegas and are streamed live on the internet.