The Race Day Las Vegas Radio Network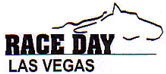 Host Ralph Siraco brings you daily Race and Sports programming from "the gaming capital of the world", Las Vegas, Nevada. All programs are broadcast live on AM 1400, FM 107.1 KSHP in Las Vegas and streamed live on the internet.
Follow @RaceDayLVRalph
Click here to listen to the alternate live stream through Tunein.com

Click here if you're having trouble connecting to the Live Stream.


Listen on iPhone:
KSHP
On Android:
KSHP
Race Day Las Vegas is broadcast Wednesday through Friday(and Holiday Mondays) at 7:05 AM, and Weekends at 8:05 AM Pacific time. Ralph takes you around the world of thoroughbred racing, from the Racetracks to the Race Books of Las Vegas.


Upcoming Graded Stakes



September 30
Gallant Bloom G2 @ Baq
Turf Classic G1T @ Baq
Vosburgh G2 @ Baq
Woodward G2 @ Baq
Ack Ack G3 @ CD
Lukas Classic G2 @ CD
Awesome Again S G1 @ SA
City of Hope G2T @ SA
Eddie D Stakes G2T @ SA
SA Sprint Champ. G2 @ SA

October 1
Miss Grillo S G2T @ Baq
Pilgrim Stakes G2T @ Baq
John Henry Turf Champ. G2T @ SA
Tokyo City Cup G3 @ SA
Zenyatta S G2 @ SA

October 6
Alcibiades S G1 @ Kee
Jassamine G2T @ Kee
Phoenix G2 @ Kee

October 7
Belmont Turf Sprint G3T @ BAQ
Champagne S G1 @ BAQ
Waya S G3T @ BAQ
Frizette S G1 @ BAQ
Jockey Club Derby Inv G3T @ BAQ
Princess Rooney Inv G3 @ GP
Breeders' Futurity G1 @ Kee
Coolmore Turf Mile G1T @ Kee
First Lady G1T @ Kee
T'bred Club of America G2 @ Kee
Woodford G2T @ Kee
American Pharoah S G1 @ SA
Chandelier S G2 @ SA
Rodeo Drive S G2T @ SA
Durham Cup S G3 @ WO

October 8
Beldame G2 @ BAQ
Futurity S G3T @ BAQ
Matron S G3T @ BAQ
Bourbon S G2T @ Kee
Spinster S G1 @ Kee
Surfer Girl S G3T @ SA
Zuma Beach S G3T @ SA
Canadian International G1T @ WO
E.P. Taylor S G1T @ WO
Nearctic S G2T @ WO

All Race Day Las Vegas programming on the Race Day Las Vegas Radio Network emanate and originate from the studios of Sportstalk 1400 AM / 107.1 FM KSHP in Las Vegas and are streamed live on the internet.