The Race Day Las Vegas Radio Network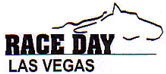 Host Ralph Siraco brings you daily Race and Sports programming from "the gaming capital of the world", Las Vegas, Nevada. All programs are broadcast live on AM 1400, FM 107.1 KSHP in Las Vegas and streamed live on the internet.
Follow @RaceDayLVRalph
Click here to listen to the alternate live stream through Tunein.com

Click here if you're having trouble connecting to the Live Stream.


Listen on iPhone:
KSHP
On Android:
KSHP
Race Day Las Vegas is broadcast Wednesday through Friday(and Holiday Mondays) at 7:05 AM, and Weekends at 8:05 AM Pacific time. Ralph takes you around the world of thoroughbred racing, from the Racetracks to the Race Books of Las Vegas.


Upcoming Graded Stakes




May 27
Soaring Softly S G3T @ Bel
Daytona S G3T @ SA
Triple Bend S G2 @ SA

May 29
Winning Colors S G3 @ CD
Gamely S G1T @ SA
Hollywood Gold Cup G1 @ SA
Shoemaker Mile G1T @ SA

June 2
Penn Mile G2T @ Pen

June 3
Pennine Ridge G2T @ Bel
Arlington S G3T @ CD
Blame S G3 @ CD
Regret S G3T @ CD
Shawnee S G3 @ CD
Summertime Oaks G2 @ SA
Belle Mahone S G3 @ SA
Royal North S G2 @ SA

June 4
Mint Julep G3T @ CD
Eclipse S G2 @ WO

June 8
Wonder Again G2T @ Bel

June 9
Acorn S G1 @ Bel
Belmont Gold Cup G2T @ Bel
Intercontintal G3T @ Bel
Just a Game S G1T @ Bel
New York S G1T @ Bel

June 10
Belmont S G1 @ Bel
Brooklyn S G2 @ Bel
Metropolitan H G1 @ Bel
Jaipur S G1T @ Bel
Ogden Phipps S G1 @ Bel
Poker G3T @ Bel
Manhattan S G1T @ Bel
True North S G2 @ Bel
Woody Stephens G1 @ Bel
Honeymoon S G3T @ SA
Santa Margarita S G2 @ SA

June 11
Matt Winn S G3 @ CD

All Race Day Las Vegas programming on the Race Day Las Vegas Radio Network emanate and originate from the studios of Sportstalk 1400 AM / 107.1 FM KSHP in Las Vegas and are streamed live on the internet.